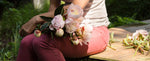 Types of Peony Blooms
In the variety descriptions, you will notice we make reference to the type of bloom that variety will have. Every peony is unique, which makes them such a renowned flower. Below are descriptions of each of the types of blooms. Some varieties have characteristics in between different types of blooms.
We harvest our peonies at the height of the Alaskan summer in early July. It's probably not a coincidence that our peony harvest coincides with the salmon run in our Cook Inlet. Just like the salmon species, every variety is unique and we start harvest for each on a different cycle.
On our varieties product pages, you may see Start of harvest: week XX. The week is the number of week of the year.  Of course, all of this is dependent on our winter, spring, and summer conditions. If we had a long winter and the ground remained frozen for too long, our harvests will be later. For rule of thumb:
Week 27 = starting July 5th

Week 28 = starting July 12th

Week 29 = starting July 19th

Week 30 = starting July 26th

Week 31 = starting August 2nd

Week 32 = starting August 9th

Week 33 = starting August 16th

Week 34 = starting August 23rd
If you don't want to do the math in your head (we don't blame you), you can filter all of our varieties by availability via the drop down menu.
Bud Sizes
What makes Alaskan peonies so special? At summer solstice, our peonies get almost 22 hours of sunlight, which means they are able to grow larger than normal. Below is our size grading and when we say "premium," we mean "GIANT!"
Vase Life Harvest Guide
In summer 2020, Alaska Beauty Peony Coop teamed up with UC Davis agricultural and environmental chemistry PhD student Austin Peek Lourie to create a peony vase life harvest guide. Austin received the 2020 graduate student mini grant from the Alaska Division of Agriculture to work with peony farmers to compile a vase life harvest guide to educate growers and field crews on the longevity of peony stems after cutting.
[CITATION: Lourie, Austin P. "Vase Life Study Harvest Guide 2020." Jan. 2021.]
*Check back in 2021 for updates on this work. Austin will be working with us this coming summer to continue his research.*
Austin is pursuing a PhD in agricultural and environmental chemistry through UC Davis and works at the USDA Agricultural Research Service Lab in Parlier, California.