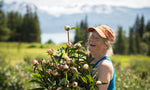 Spek and Ina Jones of Alaska Homestead Peonies are both children of families who homesteaded on the lower Kenai Peninsula before statehood. Like the Kilchers, the Jones last name is a cornerstone of Homer history. Their land is located close to the original Jones' homestead near the head of Kachemak Bay. Spek and Ina's farm is a family business, which includes raising beef cattle, horses and hay.
Farming is not new to the family, but peonies are a new endeavor. Their peonies are grown in different areas of the homestead with varieties planted in each that benefit from the different micro climates. Ina and Spek's peonies grow with backdrop of the Kenai Fjords.
Their children, along with their families, live on the homestead and are an integral part of the family business. Their grandchildren are learning the same values that Spek and Ina learned from their parents. These lessons include the satisfaction of a job well done, and to understand that we are all stewards of the land. They farm the land in a manner that is sustainable, preserving the homestead for the next generation to come.
Their latest addition to the homestead is the AK Diamond J Wedding Venue, a rustic barn wedding and event venue that has been featured in a number of wedding magazines.
Instagram // @ina.jones.37 + @akdiamonj
One of Ina & Spek's peony patches with the Kenai Fjords in the background
 Alaska Homestead Peonies